This article originally appeared on Military By Owner.
Being a homeowner and military spouse presents challenges unique from civilians. If our service members are in the field or deployed, it's not easy to get in touch with them when emergencies arise. We are often dependent on only ourselves, left alone to make the decisions to best protect our financial investment.
My husband and I had been first-time homeowners for less than a year when he got his deployment orders. After I dropped him off at the airport and returned home, the house felt so quiet and so still that I could hear a pin drop. Along with caring for our newborn daughter and our pets, the weight of all homeowner duties fell squarely onto my shoulders.
It was an overwhelming sense of responsibility, and I braced myself for all that could go wrong. But, at the end of the deployment, the house was still standing. In the end, despite being tested by the "deployment curse" a few times, I became a wiser homeowner. Through my own trial and error, here are the best lessons I learned that make me a better homeowner.
4 New Homeowner Lessons I Learned While My Spouse Was Deployed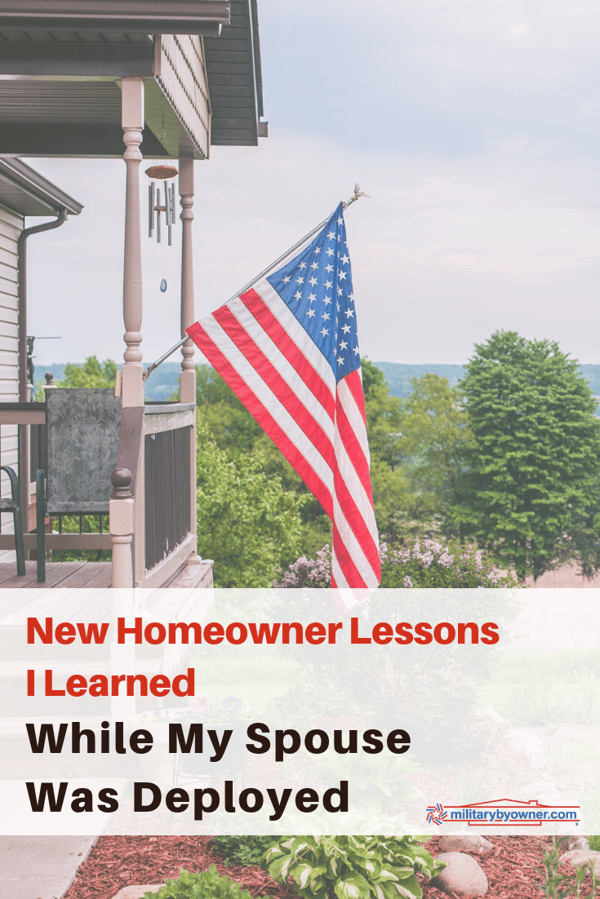 Lesson #1: In case of emergency, do not break.
The glass cases that hold fire extinguishers come with the forceful instructions to break in case of an emergency. That's not the approach I wanted to take as a homeowner if I encountered any emergency repair or maintenance project; I wanted to be knowledgeable, calm, and collective.
The first step is to make sure the name and contact information of the spouse at home is listed on the mortgage and insurance. With it, you won't be left powerless and unable to make decisions if your service member is out of reach. Many companies won't provide services to repair your home without owner consent. The Power of Attorney required by the military is your "get out of jail free card" if an emergency arises, but it can cause extra headaches and take more time to submit it to the appropriate people.
SEE: HOME MAINTENANCE HELP WHEN YOUR SPOUSE IS DEPLOYED
I made a list of local plumbers and trusted handymen I could call immediately should I need one. I did a walk through of the house to make sure I knew the exact location of the circuit breaker, water, and gas shut-off valves. Then, I took extra precautions for home and family safety. I entrusted close friends with a spare key and collected my neighbors' cell phone numbers. I also informed our house alarm company that I needed to be the main contact number for the next nine months. We had a breach in our garage door at 3 a.m. and they called me to ask if I needed the police. If I didn't let them know my husband was away, they may have tried his number first, taking away valuable minutes from reaching me.
Additionally, as a young woman home alone I knew that I had to take even more safety precautions. I was advised by seasoned spouses not to display a Blue Star in my front window because some homes off base have been targeted when criminals know a spouse is home alone.
Lesson #2: Every time the seasons change, a new challenge presents itself.
The length of the deployment meant I was going to hit all four seasons while my spouse was gone. And in Tennessee, we experience all four seasons at their best and worst. As fall approached, I hired a lawn care company to take care of the treatment and maintenance needed before we swung into the freezing temperatures and dormant grass season. Hiring out these projects was absolutely worth the cost for me. It saved so much time and stress, which allowed me to focus more on my baby.
Despite my experiences with west coast wildfires and earthquakes, I was unfamiliar with the weather of the southeast and I had to research and prepare my home for the damaging winds, hail, ice storms and tornadoes. Military families are constantly moving to different climates that can be unfamiliar and scary.
Our community was hit by two late night tornadoes in February. Thankfully, I was prepared to handle this scary situation and relieved that our home wasn't damaged. I had invested in a portable charger to back up my phone in case of a power blackout. I downloaded local weather apps on my cell phone that would warn me of a tornado watch. Because of these apps, I was aware of the severe storms headed our way and could take the appropriate steps, such as securing outdoor furniture and putting the cars in the garage. I also had an emergency water and food and water stockpiled in case of damage to the power infrastructure. Most importantly, I had my safety spot identified and rode out the storm in the downstairs bathtub clutching my baby and dog.
Lesson #3: Don't overlook ways to keep the home energy efficient.
I know this lesson is not a shocker to most homeowners, but with a baby on my hip and a needy dog and cat who are my first priorities, thinking about general home maintenance was just exhausting. I know that as a responsible homeowner, it's my job to ensure my utilities and appliances are functioning properly to keep my home running efficiently and keep costs low. I decided to use the first day of each month to perform my routine check-ups, taking care to examine areas of the house that weren't frequented (like my husband's home office that never saw the light of day) to make sure there wasn't a leak or something else out of the ordinary. I also changed our air filters on this day. Most filters don't need changed as frequently but ours are smaller, so we chose to change ours monthly to keep the air purified.
In January when we were blanketed with record-breaking low temperatures and snow, the outdoor heat pump froze over and my emergency heat setting automatically activated to heat my house. This emergency setting drove my electricity bill through the roof, more than doubling the previous month's bill. I completely overlooked this issue; my heat was coming through just fine, and as a new homeowner I never experienced that rare issue before. In the future, I know to check in on the HVAC system throughout the winter to avoid ice buildup and a ridiculously large utility bill.
Lesson #4: Deployment is a permission slip to dive into new projects.
There are a lot of quiet moments around the house when your spouse is deployed. But instead of feeling lonely, I tried to reflect on our beautiful home and family. These peaceful moments gave me the opportunity to sit in stillness, usually with a cup of coffee or glass of wine, and appreciate the finer nuances of our home. These moments of reflection helped me envision projects I would otherwise dismiss during the regular hustle and bustle of life. For me, this is the fun part about being a homeowner. I was able to change things up to fit my needs, something on-post housing or renting may not allow. But it's my house, and my creative freedom had no bounds. I took on projects such as reorganizing the kitchen pantry with new shelves and touched up paint on the interior walls.
Being a homeowner is a lot of work, but it's worth it. Military families have even more challenges to keep the house functioning and preserve its value. The lessons I learned during deployment helped me become more familiar and aware of issues homeowners face– even if I had to learn some things the hard way.
Military or civilian, all homeowners can learn from those of us who manage the home front while our service member is downrange.